Download the show, bitches!
While the show is no longer being recorded, you can still download far too many shows in our poorly maintained archives. Why in the hell you'd actually subject yourself to that, we have no idea.
Best of 2003
Just as it was constantly taken out of the studio's rotation when we snuck it in, you too can now repeatedly add and remove The Music Abuser: Best of 2003 from your music library!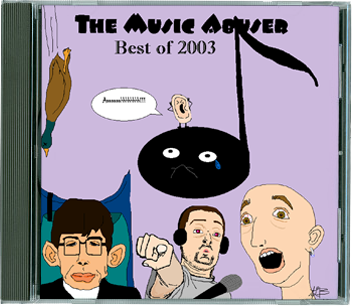 Playlist
Tomoyasu Hotei - Battle Without Honor (Nov 17)
Marvin Gaye - Lets Get It On (Oct 20)
Looking Glass - Brandy (Nov 17)
Yeha-Noha - Yeha-Noha (Wishes Of Happiness) (Oct 2)
The Jackson 5 - I Want You Back (Oct 6)
James Brown - Say It Loud (Oct 20)
Kelis - Milkshake (Dec 22)
Thelma Houston - Don't Leave Me This Way (Oct 20)
David Bowie - China Girl (Dec 01)
Neild Diamond - Sweet Caroline (Nov 17)
Turntable (Nov 17)
Michael Jackson - Beat It (Dec 22)
Gary Wright - Dream Weaver (Dec 01)
One Man Jam (Dec 29)
Guns N' Roses - Paradice City (Dec 22)
The White Stripes - Hotel Yorba (Dec 01)
Michael Jackson - Dirty Diana (Nov 10)
Beck - Debra (Nov 17)
The Sugarhill Gang - Rappers Delight (Dec 29)